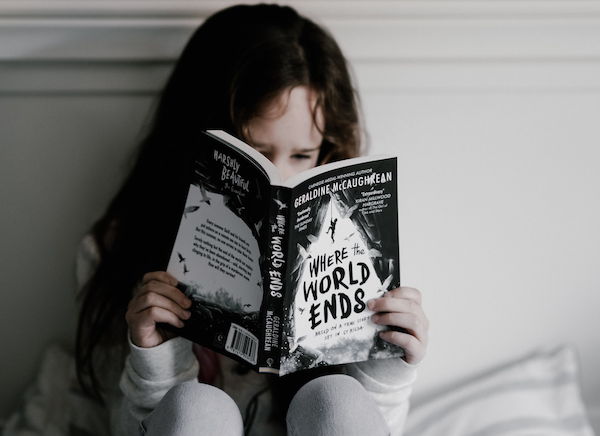 When I was a kid I read constantly. I would read under my covers, well past bedtime. I read all the Beverly Cleary, Judy Blume, Laura Ingalls Wilder books available. I wanted Ramona and Margaret and Encyclopedia Brown to be my best friends. The best gift I ever got was a subscription to the Sweet Pickles Book Club. TWO NEW BOOKS! Every Single Month! Heaven.
At some point in adulthood I stopped reading so much. Then when I started my business I began to read more, but mostly I read business-building kind of books. Lots of non-fiction, marketing and self-help-y psychology lite stuff.
Sometime in 2018 I recognized that most of what I was reading was written by men (so much business-y non-fiction). So I made a conscious shift to only read books written by women in 2019. A few male authors snuck in. I also made an effort to seek out books by non-white authors. I could have done a little better with that, and I'm making that a goal for 2020.
So many of my clients have told me about what they're reading, I figured it would be fun to share my list. (This is not the full list of what I read, but they are the books I would recommend.)
Here are some logistics: All but 2 of the books that follow were free kindle downloads from the library network. Getting a physical book from an actual library is a hurdle for me. The ease of a kindle is what made this happen. Any resident of Massachusetts can get a digital ecard to the Boston Public Library, and most local libraries have that option as well. It's just a small learning curve to figure out how to borrow and download a book. I have a super old kindle that I won in a raffle in 2012-ish. If you don't have a kindle, you can pick up a used one on Amazon pretty cheap.
If you tend to buy books from Amazon, please consider using Amazon Smile and choose Full Steam Learning, Inc. as your charity of choice! That's my partner's non-profit organization, created to provide children's science workshops in underserved communities.
Memoirs & Other Non-Fiction
In Pieces -Sally Field
This is my favorite memoir of the year. Sally Field is a fantastic story-teller (she did not have a ghostwriter), weaving a hint of suspense into her story in a way that is less common in memoirs. This book requires all the content warnings for sensitive readers. It's also worth the effort to get immersed in her story and her growth as a woman, a mother, and an actress.
The Princess Diarist, Wishful Drinking, Shockaholic -Carrie Fisher
I didn't appreciate Carrie Fisher until I hit my 40's. You'll laugh out loud and reflexively clench in pain, sometimes while reading the same page. I haven't read all her stuff yet, but I'll get to it in 2020.
Becoming -Michelle Obama
I really loved her story. And at the same time, many parts of it agitated me. Mostly the parts where Michelle Obama prioritized her husband's career over her own. (Which says more about me than it does about her story, of course.)
All You Can Ever Know -Nicole Chung
Nicole Chung was placed for adoption by her Korean parents and raised by a white family in rural Oregon. Her story pokes a big and necessary hole in the superficial belief that adoption is always a wonderful and loving thing. This book is elegant and kind in its reflection and the honesty is kind as much as it is specific and painful.
The Liars' Club & Cherry -Mary Karr
After I read the first book, I learned that Mary Karr is a memoirist who actually teaches memoir writing, which explains a lot.
All Over the Place -Geraldine DeRuiter
"Adventures in Travel, True Love, and Petty Theft" pretty much explains it all
Calypso -David Sedaris
I mean. Anything by David Sedaris is amazing and hilarious. Read during the day or you will laugh out loud and wake your partner.
Educated -Tara Westover
From survivalist cult family to Harvard, this story is fascinating.
The Library Book -Susan Orlean
I didn't expect to find the history of the Los Angeles Public Library as riveting as it was.
Like Brothers -Mark Duplass & Jay Duplass
Remember the funny midwife doctors on The Mindy Project? This is them. Part memoir, part guide on how to communicate, this book was great.
Fiction
Martin Marten -Brian Doyle
This book was a gift from a friend. I've never read a book of prose that reads with the fluidity and beauty of poetry. But here it is. A coming of age story. A wilderness tale. And so much more.
The Song of Achilles & Circe -Madeline Miller
Little Fires Everywhere -Celeste Ng
The Seven Husbands of Evelyn Hugo -Taylor Jenkins Reid
Landline -Rainbow Rowell (all of Rowell's stuff is great)
Bittersweet & June -Miranda Beverly-Whittemore
Murder on the Orient Express -Agatha Christie
Mr. Penumbra's 24-Hour Bookstore & Ajax Penumbra 1969 -Robin Sloan
The Little Paris Bookshop -Nina George
Young Adult Fiction
Rain Reign -Ann M. Martin (Yes, the Babysitter's Club Ann M. Martin. But this is very, very different.)
The Pistachio Prescription -Paula Danziger (Turns out I read this as a kid. It's still great.)
And I just last night finished The Love and Lies of Rukhsana Ali -Sabina Khan
I heard about this book from a 'best queer young adult fiction' list and I can't wait for the kid to read it so we can talk about it.
Let me know what you read and if you love it!