Hi! Thanks for being an educated consumer looking for a quality massage therapist.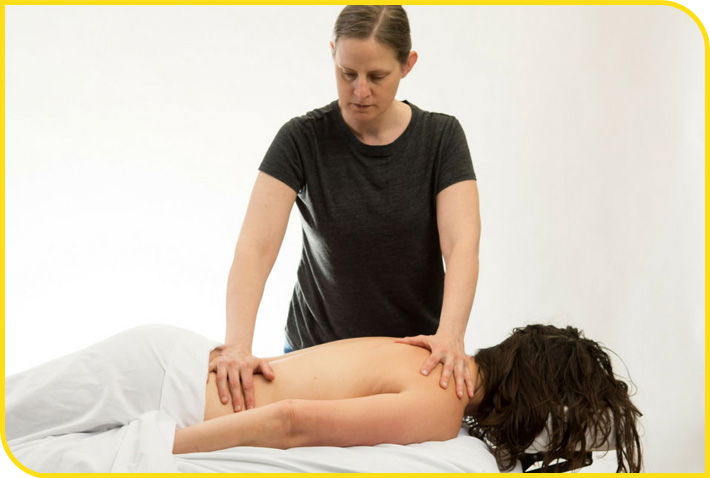 Here's what you need to know about me:
My pronouns are she/her. I've been a massage therapist since 2005.
I graduated from college with a degree in Liberal Studies and the skills to do almost nothing (except manage the Taco Bell on campus). I landed in a retail pharmacy setting and stayed there for 7 years, learning about people, medicine and health care in general. I also learned that wellness care is way better than illness care.
I went to Bancroft School of Massage Therapy in Worcester. Since then I've taken a bunch of advanced training, including an Oncology Massage Therapy intensive. You can see my full list of trainings and credentials below.
But what I really want you to know is this:
I used to be a classic Type A person. Super stressed. Always working and volunteering and constantly in motion, but with a lot of spinning my wheels. After 18 years of experience providing massage and even longer receiving massage, I'm way more chill.
I am more calm. And calm doesn't have to mean still, or boring, or unproductive. In fact, I am much more productive, patient, and of better service to my clients, colleagues and loved ones when I get regular massage therapy.
Calm doesn't have to be about zen gardens or chime-y music. Calm is a feeling you can access to help you be composed, collected, and capable.
You can claim it. You can have it. Massage can help with that.
If that sounds helpful to you, check out my services page and get yourself booked.
Credentials
Bancroft School of Massage Therapy, Massage Therapy Certification 2005

Westfield State College, Bachelors of Science in Liberal Studies 1997

Continuing Education
Oncology Massage Therapy: Caring for Clients with Cancer- Tracy Walton

MotherMassage ®: Massage During Pregnancy- Elaine Stillerman
The Community Resource Resiliency Model (CRM)®- Trauma Resource Institute
Bodywork for Depression & Anxiety

Professional Involvement
Professional Member, Associated Bodywork & Massage Professionals (ABMP)